On July 27, 2023, BRL Medicine Inc. (hereinafter referred to as "BRL Medicine") announced that the development of a general-purpose cell platform with independent intellectual property rights called "allogeneic chimeric antigen targeting CD19 gene modification The clinical trial application (IND) of "Receptor T cell injection" (pipeline code: BRL-301) has been officially approved by the Center for Drug Evaluation (CDE) of the State Drug Administration of China. The indication for this IND is "acute lymphoblastic leukemia". It is worth mentioning that BRL-301, as a general - purpose allogeneic CAR-T preparation, has many characteristics such as high accessibility, low cost, and stable quality. In the clinical trial (IIT) initiated by the investigator , it has shown significant efficacy and high safety.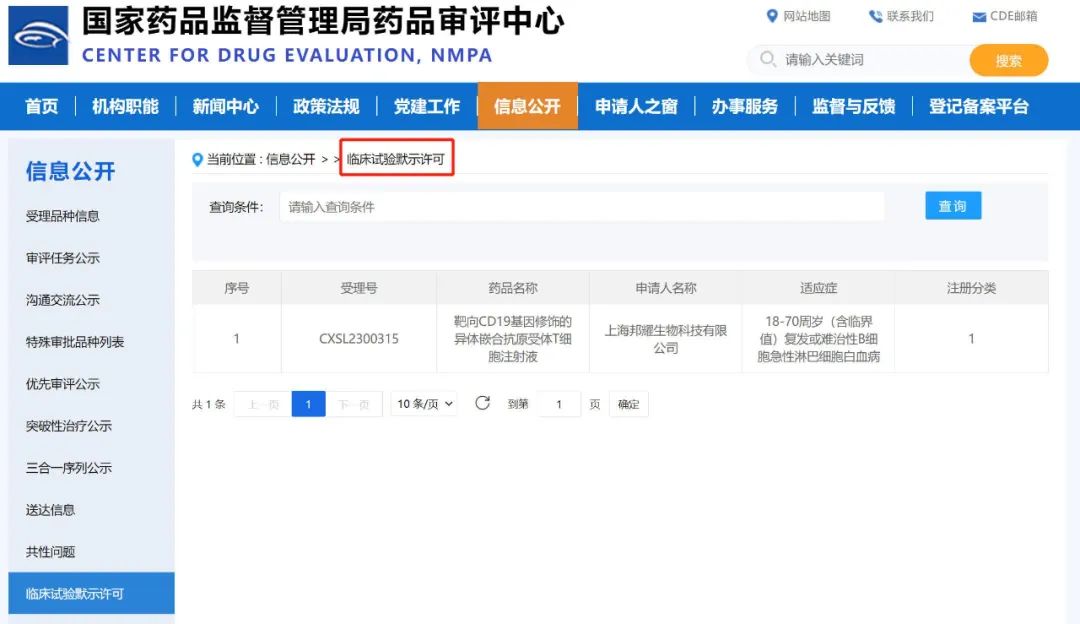 Public information on CDE official website
BRL Medicine's new generation of CD19 UCAR-T products
a new generation of UCAR-T product developed based on the self-developed universal cell platform (TyUCell ® ), which is mainly transformed by gene editing technology Allogeneic immune cells effectively avoid the risks of GVHD and HVG that may exist in allogeneic cell transplantation. On the basis of ensuring the safety and effectiveness of cell products, it truly realizes the generalization of immune cell therapy products. The indication field of the product layout A B-cell malignancy.
Compared with similar products at home and abroad, BRL Medicine's new generation CD19 UCAR-T product has the following clinical advantages:
01 Great Patient Accessibility
BRL Medicine's UCAR-T products have achieved effective immune escape through systematic gene editing and transformation. During the treatment process, there is no need to screen patients for HLA typing, and they are truly available from stock, which greatly expands the scope of application of the product . And at present, the production scale of more than 200 people has been realized at a time, which not only greatly reduces the production cost, but also reduces the waiting time of patients, greatly improves the convenience of cell therapy products in clinical use, and is reflected in clinical treatment. had an excellent advantage.
02 Higher clinical safety
BRL Medicine's UCAR-T products do not require additional debridement or immunosuppression for patients. The complete removal of tumor cells can be achieved only by using a conventional or even lower lymphoid-clearing regimen, and it can also effectively avoid the risks of infection, agranulocytosis, and slow recovery of lymphocytes caused by excessive immunosuppression in patients. High clinical safety.
03 Better clinical treatment effect
The T cells of BRL Medicine's UCAR-T products come from young healthy donors. Their activity is far superior to that of long-term blood disease patients' own immune cells, and they have excellent expansion potential and persistence after reinfusion. In the IIT research in the early stage of the product, BRL Medicine's UCAR-T showed a significant and durable tumor clearance ability, and quickly achieved complete remission of the disease.
It can be said that the new generation of UCAR-T products of BRL Medicine solves the pain points and difficulties of the CAR-T treatment industry, and realizes the comprehensive improvement of curative effect, safety and clinical accessibility. It has very significant industrialization advantages, and its excellent Excellent clinical safety, therapeutic effect and extremely low production cost can enable more tumor patients to fully enjoy the dividends brought by the high technology of CAR-T therapy. In the future, BRL Medicine will also fully promote the clinical transformation and application of UCAR-T in the treatment of autoimmune diseases and solid tumors, so as to bring better treatment options to patients.