Nowadays, the role of intellectual property as a strategic resource for national development and a core element of international competitiveness has become more and more prominent, among which, increasing the "value of intellectual property" has become the most important goal of intellectual property construction in China at this stage.
As a Cellular & Gene pharmaceutical company--BRL Medicine has always attached great importance to the development and protection of intellectual property rights, and in November 2021, BRL Medicine passed the acceptance of the Shanghai Patent Pilot Enterprise with high scores after the enterprise defense and expert evaluation, and was ranked in the top 10 among 93 patent pilot enterprises in Shanghai. "Shanghai Patent Work Pilot Excellent Unit".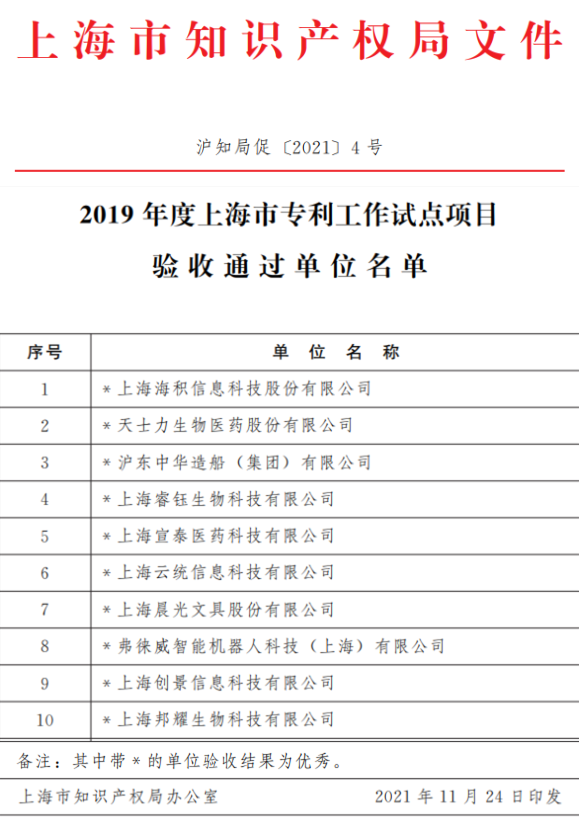 BRL Medicine was notified of the award
image source/Shanghai Intellectual Property Administration
The patent pilot construction process of BRL Medicine is also the process of cultivating its high-value patents. In 2019, BRL Medicine was awarded as "Shanghai Patent Pilot Enterprise" among 500 competing enterprises, and during the patent pilot construction period from 2020 to 2021, BRL Medicine will place emphasis on domestic and international high-value patents. The number of PCT applications has increased by 120% compared to the pre-construction period, and the number of newly granted patents during the construction period has reached 180% of the total number of previous years.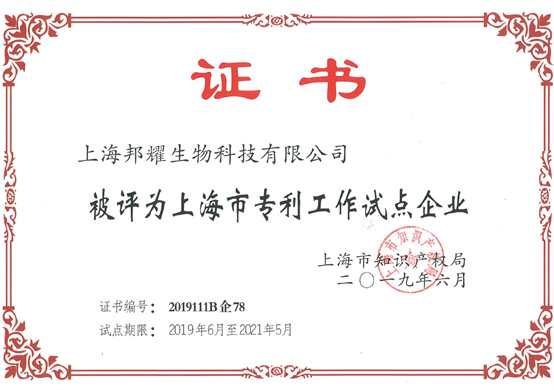 Honorary Certificate of "Shanghai Patent Work Pilot Enterprise"
The rapid increase of patent value depends on the pragmatic and steady intellectual property management of BRL Medicine. In accordance with the " Enterprise intellectual property management " (GB/T29490-2013), BRL Medicine has obtained the certificate of intellectual property management system certification in October 2020.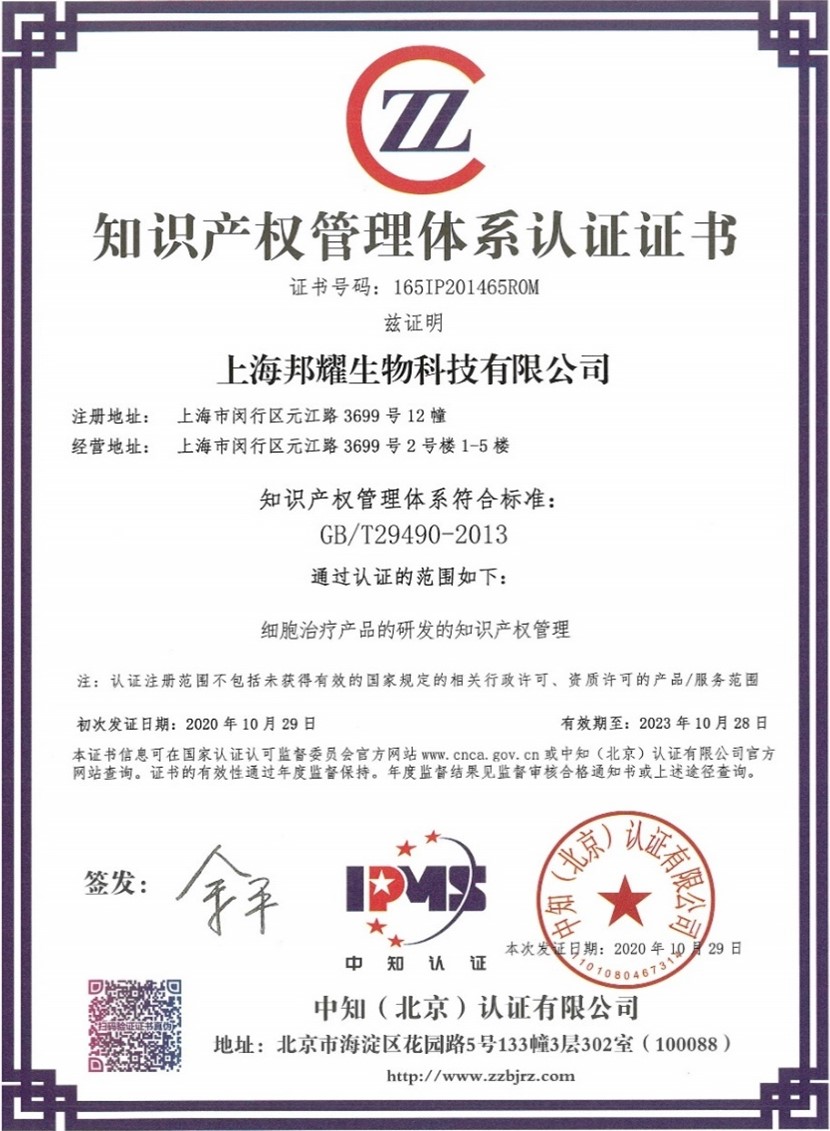 Honorary Certificate of "Intellectual Property Management System Certification"
In addition, through the construction of Shanghai Patent Pilot Enterprise, BRL Medicine has realized the operational closed loop of "R&D prospect assessment - patentability analysis before application - patent mining during application - daily prevention of infringement risk", which reduces the waste of resources caused by repeated R&D, improves the scope of patent protection and layout dimension, and thus increases the overall IPR value of the company.
In fact, since its establishment, BRL Medicine has attached great importance to scientific and technological innovation, hoping to continuously improve its ability to create, apply, protect and manage intellectual property by establishing an intellectual property information database, patenting key technologies, and taking multiple initiatives to train intellectual property talents. Previously, it has signed cooperation agreements with East China Normal University and other research institutes to promote the development of the enterprise.
This time, after two years of patent pilot construction period, BRL Medicine completed the echelon construction of the intellectual property team, realized the hard and soft conditions of intellectual property, optimized the company's intellectual property management system, comprehensively implemented the concept of "full participation in the use and management of intellectual property", improved the ability of R&D staff to retrieve and utilize patent information, helped BRL Medicine's technological innovation and breakthrough in the field of gene editing and cell therapy research and development, thus escorting the early launch of products and further promoting BRL Medicine's mission of " Through innovation led by gene editing, develop breakthrough human therapeutics and benefit the whole world ".